REAL FOOD THAT MEETS THE REAL NEEDS OF YOUR PETS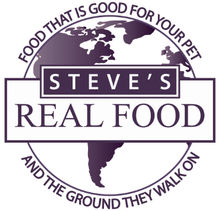 Sit, Stay, 'N Play is proud to carry Steve's Real Food in Stroudsburg, Pennsylvania. Steve's Real Food is made from responsible, locally sourced ingredients that are all added for a nutritionally sound reason - with no fillers or preservatives. Steve's offers raw pet nutrition for dogs and cats.
Raw Dog Food
Frozen Dog Food: Steve's frozen foods come in both tater-tot size nuggets and 8 ounce patties. Frozen diets are available in Beef, Pork, Turkey, Turducken, and Chicken.
Freeze-Dry Dog Food: Steve's freeze-dried foods use the same great formulas that the frozen foods do - we simply use a cold freeze dry process to remove the moisture. Freeze-Dry diets are available in Beef, Pork, Turkey, Turducken, and Chicken.
Prey Diet: Steve's PREY diet is a 95% meat diet without any produce. Each 20lb box has two 10lb bags in it with 8oz paper separated patties making for a total of 40 patties.
BARF Diet: BARF stands for Bones and Raw Food or Biologically Appropriate Raw Food. No matter which acronym you go by, BARF is about feeding pets what they have evolved to eat before they became domesticated: Raw, meaty bones and vegetable scraps. Grain-based commercial pet foods are often harmful to a pet's health.
We offer the best dog training in Stroudsburg, PA. Come visit our pet supply store specializing in quality food, treats, and supplies for dogs.