Positive Training for Positive Results
Sit, Stay, 'N Play is a professional dog obedience training company in Stroudsburg. We specialize in dog sports, obedience training, behavior adjustment, potty training, and puppy training. Our dog trainers are certified practitioners that focus on dealing with behavioral issues without the utilization of fear, pain, or intimidation so that animals will enjoy the learning process and preserve their practical knowledge.
Make a reservation for an appointment request on our booking page or call us at (570) 872-9748 with any questions.
Refund Policy: There will be NO refunds on class fees once the session starts.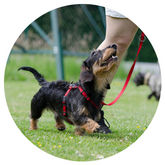 Obedience Training
Our obedience system is based on fun engagements that build focus. A great introductory class that teaches simple cues like sit, come and stay. We offer obedience training for all levels including CGC and therapy.

Behavior Modification
We use positive reinforcement to correct behavioral issues such as barking, digging, jumping up, biting, chewing and other dog and puppy problems.

House Breaking & Potty Training
Our professional trainers can train dogs to eliminate in litter trays, potty pads, or outdoors.

Puppy Training
Help your puppy to develop critical social and obedience skills, plus you can get all your important puppy questions answered!

Dog Sports
We offer a variety of dog sports: Agility, Rally-O, Treibball, Nose Work, & Canine Conditioning.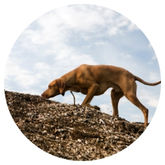 K9 Nose Work Training
Nose work is a great activity for dogs of any age. Engaging for both you and your dog, nose work training is fun and rewarding.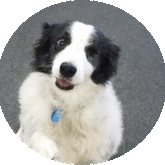 Differently Abled Dog Training
This is Checkers. She is missing one eye, and one leg. She excels in obedience and has started on her nose work journey. Dogs with disabilities or physical challenges are great additions to any family and they are just as capable of playing many of the same sports as abled dogs. Tripod doggies and blind dogs can play many sports such as rally, nose work, and obedience. Deaf dogs can play agility in addition to the other sports listed. We can help your dog with disabilities shine! To learn more call us at (570) 872-9748.
WHAT Stroudsburg CUSTOMERS ARE SAYING
We love our customers from Stroudsburg areas around Hamilton Township, Sciota, Stroudsburg, Analomink, Wooddale, Minisink Hills, Tannersville, and more!
We offer the best dog training in Stroudsburg, PA. Come visit our pet supply store specializing in quality food, treats, and supplies for dogs.